About me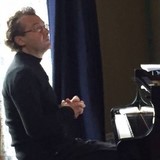 He completed his musical studies at the Conservatory Niccolò Paganini in Genoa and graduated with distinction. Alongside his solo repertoire he developed a special interest in instrumental and chamber music and has played a repertoire of chamber music with the acclaimed cellist Giulio Glavina.
​
​He has performed for numerous musical associations in Italy and in Europe; (Halesworth Arts Festival, Suffolk UK; Monaco; Nicosia Cyprus; Teatro Carlo Felice di Genova, Sala Puccini Conservatorio, Milano; Festival Internazionale di Alghero; Unione Musicale di Torino; Settembre Musicale di Trieste; Teatro Romano di Aosta; Teatro la Fabbrica, Conservatorio di Riva del Garda, Cervo, Milano, Firenze, Perugia, Pescara, Trevi, Bolzano, Roma, Alessandria, Spoleto, Todi, ecc.). In '2014 Anfossi was invited to play Beethoven's piano to Beetehoven Haus in Bonn where he played a concert the world's first public performance of the Fantasia Biamonti 213.

He has made recordings for several important music labels: Complete Piano Works by Bruno Bettinelli (DUCALE), Sonatas for Piano and Violin of Muzio Clementi (RIVOALTO), Complete Chamber Music by Francesco Cilea (AGORA'); Works by Ludwig van Beethoven (INEDITA), and the Suite for Cello and Jazz Piano Trio of Claude Bolling, (VIDEORADIO).
Say about him
"Anfossi shows to have style, technique and taste.
His Beethoven is distinguished for a noble classicism and a serene cantabile style.
Excellent the recording quality."
Musica Magazine


"An anthology of its pages magisterially executed by Massimo Anfossi ..."
Secolo XIX


"...pianist of great technical qualities and remarkable interpretative intelligence ... "
Messaggero Veneto


"...soft touch, a great performer..."
Il Piccolo